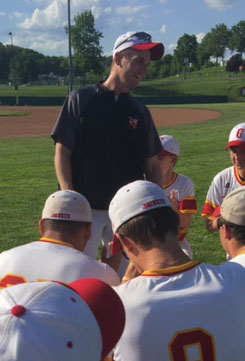 Chip Gorzynski
Baseball Enthusiast
Chip was and is still a local baseball enthusiast from Erie, PA. He both played for and has Coached at the High School and Collegiate Level. He is a McDowell High School Graduate where he played baseball and then played Division II Baseball at Gannon University where he also received his degree in Accounting.
Coach Chip is well diversified both as a multi-positional utility player as well as in coaching. He has both played for and coached with talented and accomplished coaches at many levels. His experiences afford him to develop trust and his approach can be described as patient and authentic. He will assist your athlete to develop the right formula for success by incorporating principles such as growth, development, commitment and drive.
Current Employment:
Firefighter/EMT – City of Erie
Coaching Experience:
Head Coach-Girard HS 2014-2016; led Girard to the State Playoff Tournament in 2016 (1st playoff appearance for the school in 25 years)
Asst Coach-Gannon University, McDowell HS, North East HS, Iroquois HS & travel softball
Education:
McDowell High School (1998)
Gannon University (2002 B.S. Accounting)
Player Experience:
McDowell HS 1995-1998
1st Team All-Metro 3rd Base
Gannon University 1999-2002
4 Year Letter Winner
Positions played: 3b, 2b, Rf, C
Interested in becoming a trainer?